I really don't know what direction this blog is going to take.
I haven't posted anything regularly yet, but I'm constantly thinking of ideas for it. I think the problem is actually making time to sit down and do something about it but I am going to rededicate myself to this project as many times as I need to in order to get this thing going.
I was going to focus this blog mainly on books. Well, stories. Well, it was already a lot of things when I thought it up. Books, book reviews, movies, TV shows, comic books, fandoms, music. And I've been adding to my list of fandoms that I want to talk about, not the least of which is Doctor Who, which has become kind of a big thing for me. And I think Doctor Who has made me an official fan in that, for the first time, not only am I getting the strangest impulses to write fanfiction (why on earth I want to do that I have no idea – I usually stay away from that kind of stuff because it's mostly smutty), but I have started to dress up as my favorite characters, as well.
It started as a Halloween thing. I've never celebrated Halloween officially before (Woo-hoo, popcorn/movie nights with all the porch lights off so we won't get interrrupted!) but this year, being at college and participating in all this college stuff, I needed a costume. And it just so happens that my wonderful friend Emily made me some Loki horns and a scepter for my birthday party earlier this year.
So, decided to dress up as Loki for Halloween, even though I had never really done costumes before. But more on that later. Because – my Loki horns were really delicate and were disassembled from the trip to my university, I decided they weren't really travel-hardy.
Enter the Plan B costume for the fall break trip I just came back from….
Amy Pond from Doctor Who!
I picked her because I look most like her, out of all the Doctor Who companions, as you can see in this next picture. Also, because I mostly dress like her anyway (what a coincidence!) and all I had to do was borrow a miniskirt from a hallmate (because I don't wear miniskirts) and voila! I'm Amy Pond.
I put a lot of thought into this costume….I looked at pictures of Amy on Pinterest and picked out items in my wardrobe that I thought she would wear, then decided which ones represented her entire character best. It's a mix of different style from different episodes, but the winners were the purple plaid shirt, the miniskirt (even though the red plaid shirt she wears in Series 5 isn't paired with a miniskirt, it still represents the character best, in my opinion), the brown jacket and red scarf. I meant to also wear my maroon fingerless mitts that my mom made me like Amy wears in The Pandorica Opens, but it totally slipped my mind.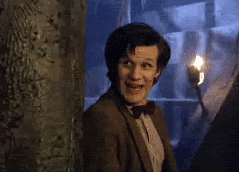 And absolutely, I decided to draw tally marks all over my face and arms because the Silence were an awesome foe for series 6 and because I think that for anyone who has seen the show, the marks would instantly remove any and all doubt as to who I was supposed to be.
Then, as I was deciding what shoes I should wear, because Amy wears several different kinds of shoes, I went, "Hey, I should wear my Converse to represent the Tenth Doctor, because he's my favorite." And Amy wears blue Converse in an episode so it's not totally out of her style, even though mine are the Doctor's off-white classic look.
So in a kind of weird Doctor-Amy mashup I then had to build myself a sonic screwdriver. I decimated probably around two dozen pens/markers/sharpies and it cost about two hours and some silver Sharpie'd fingers, but I'm really happy with what I came up with considering I've never built anything like it before. I had a blue glow-stick inside it that I'd cut down and taped so it glowed, but I couldn't figure out a good cap to put on it that would still show the blue glow but not stick out too much. So right now the blue pom-pom is holding its place.
I'm thinking about building another screwdriver when I get the chance to buy some actual materials to work with, so I can have it actually lengthen out, glow blue and make the sonic sound when I press a button, but all in all, I'm super proud of my work. I would do Amy Pond again for Wednesday's campus-wide costume contest, but, like I said: I have Loki horns, and I don't want them to go to waste.
So. Back to the horns.
They're made out of cardboard, foam, and tinfoil, and Emily cleverly glued the pieces together, then spray-painted them gold. Which is perfect – she's really got her game up – except they came off soon after the party, and I transported them to my dorm room in pieces. The scepter came apart as well when it got knocked over.
So tonight I'm working on supergluing them back together. There are pieces scattered all over the floor right now, in various stages of drying, and I have them off to the side a little because I don't want my roommate tripping over them when she comes back later. The horns are slightly difficult to re-glue because they are heavier than the cardboard headpiece and unbalance the helmet as a whole to create the look. I hope I don't run out of superglue trying to keep them on, don't think I will, but I have to use painters tape at the top for right now because that's all I have to keep the horns attached. Fortunately, I won't be doing any looking down in that thing (heaven forbid) so nobody will see it, but it feels tacky to me because I have no gold spray paint to cover it over.
Also, this afternoon, I came to the sudden realization that while I have horns and a scepter, and I can make do with a green sweater and black pants for the outfit, I don't have a cape! Loki needs a green cape! So as soon as I got back from my fall break trip this afternoon, I hopped on my bike and pedaled over to the nearest party store to get a green cape.
It took me forever to find it because it was really well hidden. It felt like the entire store was secretly owned by Edna Mode ("NO CAPES!") because I couldn't find a single cape, let alone a green one, anywhere. I finally had to ask an employee where they were and she pointed me to the back corner of the sto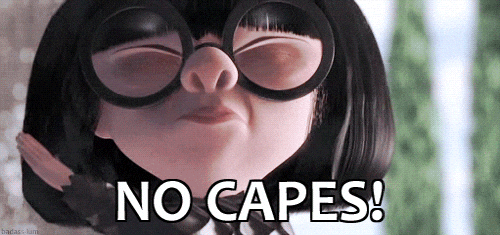 re. Fortunately, it was only about 5 bucks, so I felt like I could justify spending that much with my broke college student budget. I had to pass on the black wig, though, one because I didn't see a wig I thought would work really well, and two because I couldn't justify spending that much when I'm trying to save for my next tuition payment. So my own (very) red hair will have to do, slicked back and pulled into a ponytail at the base of my neck.
Since I now have a gorgeous green cape (doesn't fall all the way down to the floor but you can't have everything), I decided I should put a little more work into the other details of the costume. I have only cardboard, the Internet, and a printer to work with, but I took a template I found online for the arm guards and just traced the outline onto some cardboard and cut it out. I then got the cardboard wet at the sink and bent it around my forearms so that it has a shape to it. They're drying on my water bottle and a glow stick package now and I'll see how I want to decorate them in the morning.
I have a brown paper bag that I can cut up to make the other gold pieces of the costume (I'm thinking specifically the Avengers/Dark World look) but I don't know exactly how I'm going to do it yet. And I want to take my popsicle stick sword that I used for one of the freshmen events earlier this semester and cut it down, sharpen it a bit and maybe color it silver so I can have a useful knife to hide in my costume and randomly stab someone (ehehehe).
Well, so far so good and I'll try to keep you updated, but in a really really long nutshell that was how my hunt for a Halloween costume turned into a serious attempt at cosplay and this might very well become a major part of my life and my blog now.
And since we were on the topic of capes and Edna Mode, I thought I'd share this funny with you:
Happy Halloween (and happy cosplaying)!